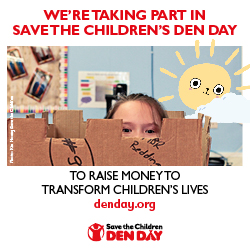 On Friday 16th June we will be supporting Save the Children Fund's Den Day.
Our pupils will be joining children from around the UK to unleash their imaginations and transform their classrooms and playgrounds into amazing dens. To raise funds for Den Day, we are asking them to bring in a donation of £1 on the day.
The money they raise will help Save the Children give children around the world a safe place to sleep at night.