Four of our year 5 pupils have attended a recording session at the Factory Studio. Along with pupils from five other schools, they recorded the chorus to Amy Claire's new song "What would you do?" This is part of a project run by Crimestoppers, Avon and Somerset Police and Unique Voice.
They were great, singing along to all words, respecting the need to be very quiet when others were recording and making us very proud.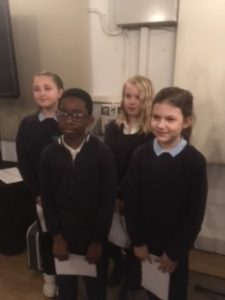 These 4 will be performing live at Ashton Gate Stadium on 26th April in front of 400 people!