The last blog of Term 4, before we break up for the two-week holiday, brings lots of exciting news from both campuses.
Following Unique Voice's visits in February, a group of our pupils at Lockleaze Road ran an assembly for parents/carers and a Phase 3 audience, while the Orchard Campus group ran one for parents/carers and Year 1, 2 and 3. Having spent an afternoon collaborating to prepare it, the children presented on how to stay safe when using the Internet and going online. e-Safety is a key part of our Computing Curriculum, but as access to the Internet and social media becomes easier, understanding the potential dangers become even more important. Thank you to all of you who supported these events.
The NSPCC have visited both Orchard Campus and Lockleaze Road, holding assemblies for Year 1 – 6 and then running workshops for our Y5 + 6 children at Lockleaze Road. The assemblies delivered the NSPCC's 'Speak out. Stay safe.' programme, which focuses on how children can keep themselves safe from harm and how to get help if they have any worries. Our pupils took a lot from the assemblies and workshops, and are now more aware of how they can 'Speak out' and 'Stay safe'.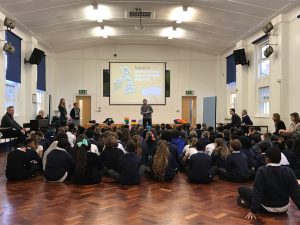 Each term we continue to hear from different classes about their learning. This term we have been wowed by: Pear and Willow Class at Orchard Campus; 1R, 1G, 2B, 3G, 4C, 6G and 6W at Lockleaze Road. These class assemblies continue to be very well supported by you and we know how much it means to the pupils to be able to show-off their learning to an audience.
Year 3 went to the Roman Baths in Bath as part of their Romans topic. The children enjoyed applying their knowledge about Roman Gods and Roman architecture as they walked around. The children were complimented on their good manners and behaviour.
The inaugural Filton Avenue Primary School 'Careers Fair' took place at Lockleaze Road, last Tuesday. It was a huge success, providing our Y5 + 6 pupils with the opportunity to meet and speak to a wide range of different professions, including: medicine, law, engineering, construction, farming, accountancy, the army, music, police, retail, beauty and acting, to name but a few. It was an innovative afternoon, which has raised awareness amongst our older pupils of some of the many and varied careers that are open to them. A massive thank you must go to all our 'exhibitors' who gave up their time to come and spend the afternoon with our pupils – having spoken to many of them, we know how much they got from the experience; as well as to Sarah Stefanini for all her hard work in organising the event. We eagerly look forward to our next 'Careers Fair'!
Saturday saw the school's Spring Fair take place at Lockleaze Road. The sun shone and the large numbers of people who visited enjoyed the wide-range of stalls and activities; it was great to see Orchard Campus parents/carers at the fair and we look forward to more whole-school events in the future. Naturally, there are many thank yous required following all the logistics that go into organising an event of this size. Not least to Jane and the rest of the FFA team (too many to mention individually, but you know who you are!) here at Lockleaze Road, and to Ben Westley and all the other staff who contributed to such a successful day. Special mentions to our entrepreneurs, i.e. the children who ran their own stalls, Steve England for the recommendation of the Owl Sanctuary, the Lockleaze Neighbourhood Trust, and Ebenezer Church for the loan of their van to transport the stocks.
We are also pleased to announce the winners of the Easter Egg design competition: Freya at Orchard Campus; Donika (Y1). Piyu (Y5) and Gracie (Y6) at Lockleaze Road.
Both sites have held their Easter Bonnet Parades this week and, as always, they have been a riot of colour and creativity. Though we say it every year, the designs are getting more and more elaborate and the effort you all put in to this event is greatly appreciated. The pupils had a wonderful time parading up and down the catwalk in front of very enthusiastic audiences! Even our more nervous participants managed and smile and a twirl!
You may look at it regularly, but if not we'd like to remind you about Pobble. Pobble is an online platform that gives our Y3 – 6 pupils a global audience for their writing. Your child's class teacher will post pieces of learning, written by our pupils, on the Pobble platform, enabling you to see published authors from across the school, city, country and beyond. Once you are logged-on to https://www.pobble.com/ you are able to leave comments on any piece of writing that you've read. We feel this is a fantastic medium for promoting a love of writing and celebrate it in our weekly assemblies, asking children to tell the rest of the phase why they're proud of that piece.
We have been undertaking a new 30 Days to Make a Change challenge this last month, focusing on 'Moving around Respectfully'. As with our other 30 Days challenges, this has been a great success and has had a real impact on the feel of the school. We will start a new challenge in May. Please see our website for more details.
Finally, we hope you all have a really good break from school and wish you a happy Easter, if you celebrate it. We look forward to seeing you all for the start of Term 5 on Monday 24th April.