We've reached over half way through the year already! Christmas feels like a distant memory and we welcome some warmer, sunny days!  We have had some wonderful class assemblies this term, each one shows the progress the children are making across the curriculum as well as seeing children's confidence grow as well.
Our e-safety workshops, led by Unique Voice, have been extremely successful. Unique Voice commented on how knowledgeable the children were and on their enthusiastic participation during the assemblies and workshops.
We have had several trips this term to support learning in class. Year 2 visited Bristol Zoo and were particularly excited about the new addition to the gorillas. Year 1 enjoyed their trip to the SS Great Britain, despite the weather! We've seen excellent examples of writing about Brunel and his life. Year 1s have particularly enjoyed this topic; their costumes for the Victorian Day were fantastic. Year 4 visited the M Shed where children took part in workshops and then had the opportunity to walk around Bristol to see examples of our beautiful architecture. Their topic of World War 2 has inspired some fantastic writing. Mrs Castle, a parent, also came in to share her grandfather's experiences of being a pilot during the war. We would like to say thank you to all the parents/carers that have supported learning in class, home learning and especially to those parent/carers that have supported us during trips out of school.
Year 2 Trip to the Bristol Zoo
Year 1 Trip to SS Great Britain
Year 4 – M Shed Trip
We've have seen some excellent examples of learning in class and home learning this term. Miss Datta has struggled to keep up and celebrate their success by posting a picture on my door. "As well as seeing some superb letter formation and sounding out from Apple class, I've seen Pear Class challenging themselves with fractions. Trips have really had an impact on learning in the classroom as children have shared their memorable moments from the trip with me. I've been particularly impressed with how children have preserved this term, especially when they have found the learning challenging. There has been a real focus in Cherry Class to go back and check their work, using their Mr Men reminders. Across the school, children have been trying their best to get their Pen Licences and are working hard on their letter formation to achieve this. I look forward to awarding more pen licences this term!"
The staff start their big topics with a wow day, this inspires the children's writing and gets them excited about that term's learning.
Apple – Goldilocks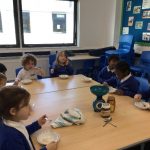 Cherry – Victorian Day
Pear – Tudor Day
Hazel – Circus Day
Willow – Greek Day
We have had another successful 'No Pens Day'. Children and teachers focused on speaking, listening, and sharing their ideas verbally.
As ever, the FFA discos have been extremely popular and successful. Our first disco for Reception and Year 1 showed off some of our fantastic dancers!
As a school we have been working on '30 Days to Make a Change' challenges since Christmas. We started with 'Manners' and will continue to work on this, but the impact, as reported by staff and pupils alike, has been hugely positive. This month we are asking the children to show 'Respect for Property'. This month we are focusing on 'moving around respectfully'. Please see our website for more details and if you click on the Year Group Blogs you will see examples of current learning in class.
World Book Day was a real success with children and staff dressing up as their favourite characters.
STEM Week 2017
We have focused on Science, Technology, Engineering and Maths. Children have been introduced to all areas of STEM during the week. Like last year, we have been very lucky as parent volunteer have  come in to share their expertise/career. I would like to say thank you to Anne Kennedy, Mark Ireland, Adrian Upex,  Karin Kjernsmo,  Mike Nobbs and Dan Pope. They have been invited to come in over the next few weeks to inspire the children into STEM subjects. The teachers have been investigating with the children, based on an Enquiry Based Learning model. Parent/carers were invited in during Open Week to share the learning. On Tuesday Children investigating Pi Day and all their learning was bought together on Friday where children showed off the investigations they had conducted during the week.